Primary Schools Initiative Extended Closing Date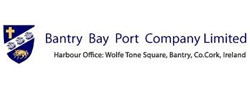 Monday 16 April 2018
BANTRY BAY PORT COMPANY SCHOOL INITIATIVE EXPLORES COMMERCIAL, ENVIRONMENT AND LEISURE IN BANTRY BAY
Calling all 5th Class Teachers!
Bantry Bay Port Company has launched their Primary Schools Initiative for 2018 and is encouraging all 5th class primary school teachers to get their class involved. This year's theme 'Bantry Bay Port -Commercial, Environment, and Leisure – Working in Harmony' is aimed at encouraging school children to explore how all three important elements work together within the bay.
Speaking about the 2018 initiative, Bantry Bay Port Company Harbour Master Captain Paul O'Regan said: 'This year's theme is all about the importance of commercial activity, environmental factors and marine leisure working together within the bay. Bantry Bay has so much to offer in terms of both commercial and marine leisure; however it's important that one element complements the other.'
Captain O'Regan continued; 'this is our third year running a primary schools initiative in the West Cork area and we have always had a very positive response from the local schools which is encouraging. It's a really great initiative where children get to have fun and learn about their local area at the same time.'
All 5th classes who take part in the Bantry Bay Port Company Schools Initiative will be treated to a boat trip in Bantry harbour and a visit to Whiddy Island, compliments of the Bantry Bay Port Company. Each class will also receive a certificate of participation. The overall 'best project' will receive an extra special prize, as well as the boat trip.
Projects are to be presented in artwork format using painting and/or models. All submitted projects will go on public display in Bantry town before the winner is announced in May 2018. Closing date for submissions extended to Friday 18th May 2018.
If you would like more information on the Bantry Bay Port Company Schools Initiative or would like to register your school, please contact Paula Coughlan at Bantry Bay Port Company Tel: 027-53277 or visit www.bantrybayport.com
ENDS
For further information please contact:
Sara Mackeown
Commercial Marketing Executive
Port of Cork Company
Custom House Street
Cork
T12 CY88
Ireland
Tel: +353 (0) 21 4625 375
Mobile: +353 (0)86 1044011