Opening of Bantry Harbour Marina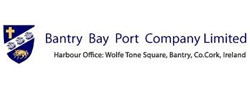 Friday 11 August 2017
Bantry Bay Port Company officially opened the new Bantry Harbour Marina today (Friday, 11 August 2017). Over 40 boats visited the new marina which was officially unveiled by Bantry's own footballing legend, Graham Canty along with Bantry Bay Port Company Chairman, John Mullins.
To celebrate the opening, Bantry Regatta and BBQ Festival is taking place all weekend (11th - 13th August) with lots of fun family events, both on and off the water happening on the marina and throughout Bantry town.
The opening of the new marina is part of the overall Bantry Inner Harbour Development which marks the start of the regenerating of the Inner Harbour Development scheme developed by the Bantry Bay Harbour Commissioners in 2012.
Speaking at the opening, Bantry Bay Port Company and Port of Cork Chairman John Mullins said "We are delighted that the new Bantry Harbour Marina is now open for local and visiting boats to enjoy. This new sheltered harbour facility will be of great benefit to both commercial and leisure users bringing increased activity in Bantry Harbour and Town and we would like to acknowledge the cooperation and patience of all local harbour users shown throughout the construction period."
He continued, "We are pleased to have worked closely with the Bantry Development & Tourism Association and the Bantry Business Association to host the inaugural Bantry Regatta & BBQ Festival which is sure to be a fantastic weekend for all."
Brendan Keating CEO Bantry Bay Port Company and Port of Cork said "I'd like to pay particular thanks to BAM Construction and Malachy Walsh Consulting Engineers and our own port teams in Bantry and in Cork."
He continued, "The Inner Harbour Development will provide improved access and facilities on the town pier, will support existing businesses and will promote and increase commercial activity in Bantry Harbour and Town."
Bantry Harbour Marina will provide 40 short-stay berths for the marine leisure sector in close proximity to Bantry Town which will provide a critical kick-start for the marine leisure industry, with the aim to attract more marine tourism to the area.
For further information on Bantry Harbour Marina or to view the programme of events taking place from 11th – 13th August, visit www.bantrybayport.com
ENDS
For further information please contact
Sara Mackeown / Sinead Keary
Port of Cork
086 1044011 / 086 3849974