Scoil An Chroí Ró Naofa Wins 'Best Overall Project' in Bantry Bay Port Company's Primary Schools Initiative 2017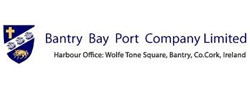 Wednesday 24 May 2017
PRESS RELEASE
Scoil An Chroí Ró Naofa Wins 'Best Overall Project' in Bantry Bay Port Company's Primary Schools Initiative 2017
Bantry Bay Port Company has announced Scoil An Chroí Ró Naofa, Castletownbere as winners of 'Best Overall Project' in this year's primary schools initiative. Local 5th class primary schools were invited to take part and submit a project based on the theme 'WW1 – The U.S. Navy in Bantry Harbour in 1917 Bay'.
Dromore National School and Cappabue National School both won a prize for 'Best Artwork'.
Local 5th Class Primary Schools who took part in the 2017 Bantry Bay Port Company Schools Initiative pic by Tony McElhinney
Primary schools from around Bantry and the West Cork area took part in the Port Company's schools initiative which is now in its second year.
Commenting on the 'Best Overall Project', John Mullins Chairman of Bantry Bay Port Company said: 'Scoil An Chroí Ró Naofa's project was creative and visual and really captured the WW1 theme very well. The standard was very high among the eight schools that participated this year and all classes and their teachers should be very proud of their efforts.'
All of the schools who participated will receive a boat trip to Whiddy Island, compliments of Bantry Bay Port Company and each school also receives a certificate of participation. Scoil An Chroí Ró Naofa will be treated to an extra prize for winning 'Best Overall Project' and will get a kayaking trip along the Bantry Blueway for their teacher and class.
Mr Mullins said the company was encouraged with the eight primary schools taking part this year and that they were committed to running the schools initiative, which aims to educate school children about the role of Bantry Bay Port Company and the associated history as well as its links to the community and contribution to local businesses.
All school projects are on public display in Bantry Tourist Office until 01st June.
ENDS
For further information please contact:
Sara Mackeown
Commercial Marketing Executive
Port of Cork Company
Custom House Street
Cork
T12 CY88
Ireland
Tel: +353 (0) 21 4625 375
Mobile: +353 (0)86 1044011
www.portofcork.ie
Follow us on Twitter @portofcork