Primary Schools Initiative 2017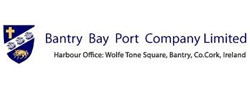 Wednesday 01 February 2017
Bantry Bay Port Company School Initiative to mark THE U.S. Navy Arrival in Bantry Harbour 1917.
Calling all 5th Class Teachers!
Bantry Bay Port Company has launched their Primary Schools Initiative for 2017 and is encouraging all 5th class primary school teachers to get their class involved. This year's theme 'World War 1 (WW1) – the U.S. Navy in Bantry Harbour in 1917' is aimed at encouraging school children to explore the great maritime history of Bantry Harbour and the role the harbour and islands played in 1917.
In April 1917, the United States made a formal declaration of war against Germany. Less than a month later, on 4th May Commander Joseph Taussig of USS Wadsworth led six destroyers of the U.S. Atlantic Fleet into Cork Harbour.
During this time it was necessary to transport large numbers of troops and equipment to Europe; however the transport ships used to accomplish this task were vulnerable to attack from German u boats patrolling the western approaches. These U boats inflicted heavy losses on the transport ships and the measures to deal with the u boat menace was met with limited success, so it was decided to employ Seaplanes to deal with the U boats. Four bases were constructed in Ireland including Whiddy Island as a site for one of these bases because of its sheltered waters and the fact that the large American naval presence in Bantry Bay afforded it protection from U boat attack.
Speaking about the 2017 initiative, Bantry Bay Port Company Harbour Master Captain Paul O'Regan said: 'The theme 'WW1 – the U.S. Navy in Bantry Harbour in 1917' will give local school children an opportunity to explore the central role Bantry Harbour played in American participation in the Great War, and explore some of the military and social history that had a major impact on the local area.'
Captain O'Regan continued; 'Last year was our first year launching the schools initiative and we had a very positive response. This year we hope to have similar numbers of participants. It's a really great initiative where children get to have fun and learn about their local area at the same time."
All 5th classes who take part in the Bantry Bay Port Company Schools Initiative will be treated to a boat trip in Bantry harbour and a visit to Whiddy Island, compliments of the Bantry Bay Port Company. Each class will also receive a certificate of participation. The overall 'best project' will receive an extra special prize, as well as the boat trip.
Projects are to be presented in artwork format using painting and/or models. All submitted projects will go on public display Bantry town before the winner is announced in April 2017. Closing date for submissions is Friday 7th April 2016.
If you would like more information on the Bantry Bay Port Company Schools Initiative or would like to register your school, please contact Paula Coughlan at Bantry Bay Port Company Tel: 027-53277 or visit www.bantrybayport.com