Bantry Bay Port Company Appoints BAM Civil Ltd on Bantry Inner Harbour Development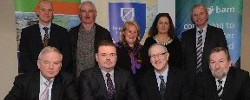 Wednesday 10 February 2016
Bantry Bay Port Company Appoints BAM Civil Ltd on Bantry Inner Harbour Development
contentFiles/newsImages/Bantry Newslettter 001.pdf
Following a public tender process BAM Civil Ltd has been appointed as the main contractor by Bantry Bay Port Company to undertake the new Bantry Inner Harbour Development. This development marks the start of the regeneration of Bantry inner harbour which is in keeping with the total Inner Harbour Development scheme which was developed by the Bantry Bay Harbour Commissioners in 2012. With phase 1 of the project expected to cost in the region of €8.5 million, funding for the project has been made available from The Port of Cork Company, the Department of Transport, Tourism & Sport and from previous funds carried over from Bantry Harbour Commissioners.
As well as providing a more sheltered harbour environment and marina with increased water depth, the development will also see the pier facilities improved and a new quayside area which will support and promote fishing and tourism activities in the Bantry area.
With construction expected to commence in late February/early March 2016, Bantry Bay Port Company are hoping to complete the development by Q3 2017.
Speaking at the announcement in Bantry, Bantry Bay Port Company and Port of Cork Chairman, Mr John Mullins said: 'BAM Civil is the largest civil engineering and public works contractor in Ireland and Bantry Bay Port Company is very excited to be working with them on the new inner harbour development.'
Also attending the announcement was Mr Brendan Keating CEO Port of Cork/Bantry Bay Port Director. Mr Keating said; 'This is without doubt a big joint investment by Bantry Bay Port Company, the Port of Cork and the Department of Transport, Tourism & Sport, however the benefits to the local area are second to none and we anticipate that this development will provide a critical kick-start for the marine leisure industry and we are confident it will attract more marine tourism to the Bantry area.'
Once complete the Bantry Inner Harbour Development will ensure vessels no longer lie aground when beside the pier. The quayside reclamation area will provide an increased foot print for marine related activities, making the pier safer environment for all users. The new twenty berth marina will provide improved berthage for local and visiting yachts to safely moor and access the town centre. Dredging will be carried out on the existing pier and new marina facilities, allowing access at all stages of the tide. A new amenity area will be developed in consultation with Cork County Council and the local community.
A full traffic and pedestrian mobility management plan will be implemented to ensure access to the pier is maintained at all times during the construction phase.
ENDS
Sara Mackeown
Commercial Marketing Executive
Port of Cork Company
Custom House Street
Cork
T12 CY88
Ireland
Tel: +353 (0) 21 4625 375
Mobile: +353 (0)86 1044011
www.portofcork.ie
Twitter @portofcork