O'Leary's Garage Win Best Business Display in Bantry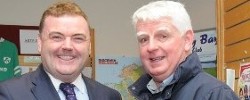 Friday 20 November 2015
O'Leary's Garage Win Best Business Display in Bantry
The winners of the Bantry Business Display competition were announced this week at a prize giving reception in the Bantry Tourism Office. The competition which is sponsored by Bantry Bay Port Company saw all local businesses in Bantry making an extra special effort with their business window displays.
O'Leary's Garage was presented with first prize, Pits Stop came in 2nd place and Brick Oven won 3rd prize.
Commenting on the competition John Mullins Chairman of Bantry Bay Port Company said: 'This is a very worthwhile initiative and one that the port is delighted to sponsor. It's absolutely great to see so many local businesses taking part, highlighting their commitment to Bantry town."
He continued: 'This type of initiative is not only great for local businesses but also for the tourism market. Well done to all those who took part and particularly the winners.'
Attending the prize giving were representatives of Bantry Business Association, Bantry Tidy Towns, Bantry Development & Tourism Association, Bantry Vintners Association, local public representatives and the Bantry Bay Port Company Chairman and board of Directors.
ENDS
Bantry Prize Winners:
O Leary's Garage 1st Prize €1000.00
Pits Stop 2nd Prize €500.00
Brick Oven 3rd Prize €300.00
For Further information or photographs please contact:
Sara Mackeown
Commercial Marketing Executive
Port of Cork Company
Custom House Street
Cork
T12 CY88
Ireland
Tel: +353 (0) 21 4625 375
Mobile: +353 (0)86 1044011
www.portofcork.ie
Twitter @portofcork